About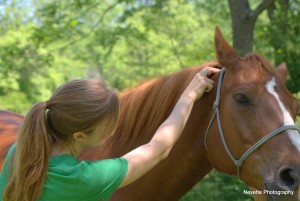 Nell Kushlak is an avid horse person and who has been riding and working with horses in stables since 1996.  She achieved her certification in equine sports massage therapy from Equissage in 2004 in order to support her appendix quarter horse, "Patrick", during his battle with navicular disease and arthritis.  Although Patrick lost his battle at the young age of eleven, he left Nell with the formative experiences of horse ownership, riding, showing and advocating with medical providers.
Nell enjoys the company of horses and their owners immensely and works to maximize horse well-being through studying horse anatomy and attending continuing education classes.  She has enjoyed working as a certified equine sports massage therapist since 2004, and has served well over 300 horse clients including trail horses, lesson horses, show ponies, show hunters and jumpers, show dressage and Western horses, along with various pleasure horses.
Nell has an Ivy League education from Cornell University, and achieved her Masters in Clinical Social Work in 2001.  She has twenty five years of experience providing therapeutic services to children, families and adults.  She is someone who applies good judgement, integrity and confidentiality to her work with horse clients and their owners.  She believes in the power of healing and enjoys providing equine massage as a supplemental component of horses' overall care.